A visual and thermal comfort in only 1 second
The  EYRISE® Dynamic solar control Glass provides you with a perfect visual and thermal comfort. This innovation glass regulates natural light in your environment in only 1 second. At the touch on a button, EYRISE® adjusts precisely your window's tint and improve significantly your well-being.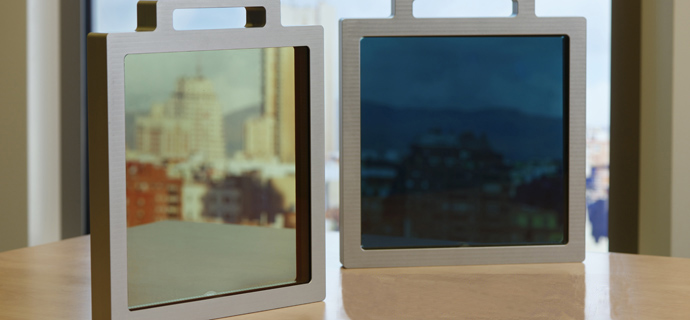 Thermal insulation and Energy savings
Eyrise® regulates light and temperature instantly and reduces your heat, light and air-conditionning energy expenditures significantly. This glass offers a made to measure thermal comfort and regulates instantly the temperature and the heat input of your environment.
Visual comfort
This glazing adapts itself continuously to the solar radiation intensity and gives its users a good shadow and the perfect amount of light.
This unique attribute creates an instant shadow without jeopardising natural light. This glass gets darker in only 1 second and offers a glare and heat protection.
Its neutral tint gives you a perfect visibilité to your exterior environment.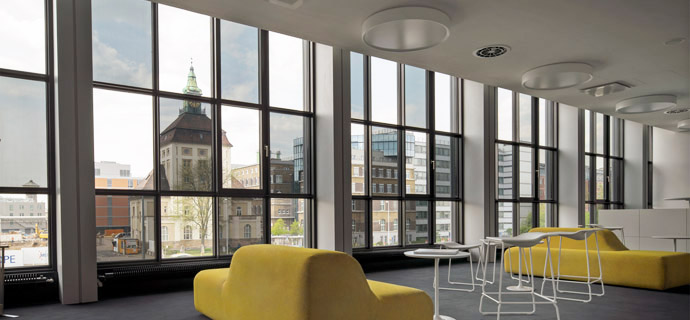 An architectural asset
The EYRISE® Dynamic solar control Glass makes your facade's design more refined and help you gain some space because it makes the installation of sun shading or awning useless.
Creative people will also appreciate the creative freedom offered by this glass that allows you to choose between a wide range of sizes, shapes and colors.
This glass also requires little maintenance.
More information about the perfomances of this glass and its composition.