Glass Railings: Fixing systems adapted to your needs
The glass railing is a safety barrier that is becoming increasingly popular.
It is above all a protective handrail which is protecting its users from possible falls.
A glass railing has various applications:
Safety glass barrier for swimming pool and patio
Glass Balcony Balustrade
Glass staircase Rake
Safety guardrail for landing or mezzanine.
In addition to our glass railing on profiles' range, Righetti also offers you a range of glass railings adapted to your needs: point fixing, clamp fixing, lateral profile fixing, framed on each side, with posts, etc…
Our laminated glasses are assembled with an EVA interlayer film. This film owns hydrophobic characteristics and provides the glass with a high moisture resistance.
KRONOS BY ONLEVEL, the first adjustable glass railing clamp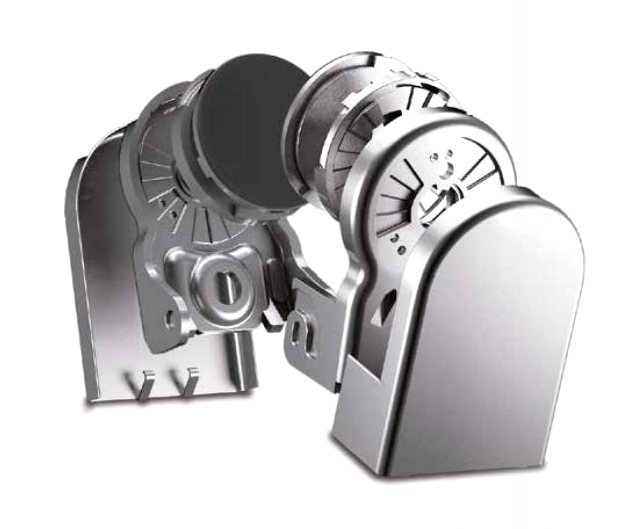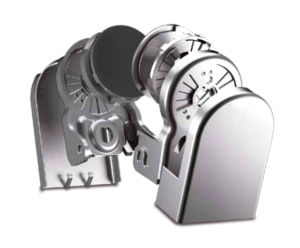 Winner of the 2017 Innovation Competition, KRONOS® is an adjustable glass clamp suitable for all thicknesses, from 8mm tempered glass to 12.76mm laminated glass.
The glass clamp can be installed on main posts connections: rectilinear, 42mm and 48mm, round.
This innovative production process offers a single clamp, regardless of the glass thickness.
KRONOS® is a stainless steel material and passed the salt spray corrosion test according to AST B117 without any problem.
Lastly, thanks to its invisible screws from outside, this clamp owns a particularly elegant and refined design.
ITS ADVANTAGES
Avoids misunderstandings on construction sites
Corrosion resistant
Reduces stocks
Screws not visible from outside
Easy to install
Bespoke finish
Onlevel glass railing posts
Discover a second innovation from Onlevel: a stainless steel posts system for glass railings.
This system therefore completes this adjustable glass clamp solution KRONOS®. They can be pre-mounted directly on posts.
This innovative solution can be adapted for a floor mounting and allows an easy and fast installation.
Main features :
Available in V4A stainless steel
SKYFORCE® : Glass Railing with side profile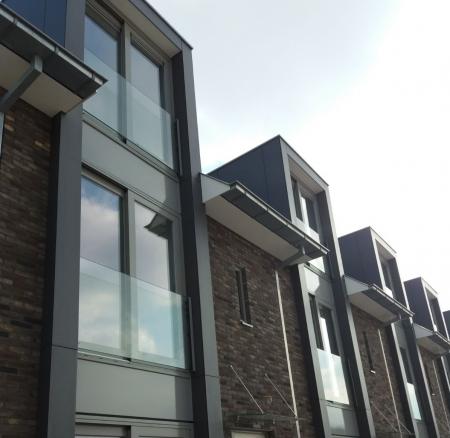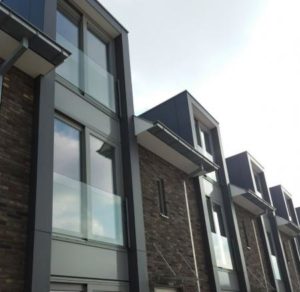 Discover SKYFORCE®, our New Invisible Solution! 
SKYFORCE® is a new Glass Railing made for windows with a classic and timeless design. This solution is almost invisible, very easy to build, it ensures the safety of its users and prevents them from falling through it.
Skyforce® is compatible with any types of profiles. It is suitable for an assembly directly on a window frame or on the wall.
This new glass railing system includes an EVA laminated glass, which is hydrophobic and do not present any risk of delamination over time.
Glass-Railing with Points Fixing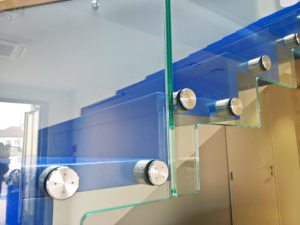 This solution is made of laminated glass with a points fixing system.
These points are made of stainless steel that measure 50mm diameter.
This Glass Railing with Points Fixing System is suitable for a private or public use.
Specific Glass Railing System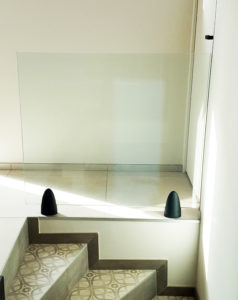 We can also offer you a specific glass railing system that adapts itself perfectly to your available space with any type of structure.
The specific glass railing system is only suiable for a private use.
We can offer you an appropriate fixing system according to your needs with a high or low profile, with clamps, points fixing, etc…