A Glass Railings: Both safe and elegant
A Glass Railing is a safety guardrail that ensures the safety of its users and prevents them from falling through it. Our Glass Railings can be used outdoor or
indoor and can be placed next to a staircase, around a landing, as a balustrade or for a balcony.
Righetti is not a reselling company, they are positioning themself as a dedicated contact to determine the best solution to manufacture your glass railing. We are able to carry out particular projects ( 0,6 kN ), your demand concerning public-access buildings (1 .0 kN ), your building projects, train stations, stadiums, swimming pools that need a solution with a high resistance ( 1.7 kN ou 3kN ).
The installation of a Glass Railing must meet standards and appropriate tests.
Glass Railing System with Sabco® Profile from Sadev
Righetti is offering you Garda®, a complete glass-railing system with Sabco® Profile from Sadev and EVA laminated glass approved by the technical advice n° 2/15-1673 from the CSTB (Scientific and Technical Centre for Construction). A technical advice guarantees the overall compliance from the glass and the associated fixing system.  This system is suitable for private or public applications.
Our GARDA range includes:
Garda A
Garda AY
Garda F
Garda FE
SKYFORCE® : Glass Railing with side profile – 
NEW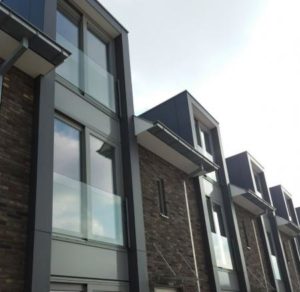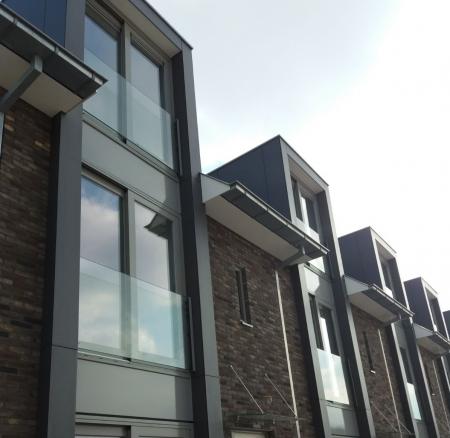 Discover SKYFORCE®, our New Invisible Solution! 
SKYFORCE® is a new Glass Railing made for windows with a classic and timeless design. This solution is almost invisible, very easy to build, it ensures the safety of its users and prevents them from falling through it.
Skyforce® is compatible with any types of profiles. It is suitable for an assembly directly on a window frame or on the wall.
This new glass railing system includes an EVA laminated glass, which is hydrophobic and do not present any risk of delamination over time.
Glass-Railing with Points Fixing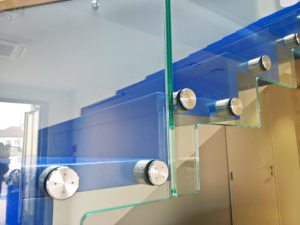 This solution is made of laminated glass with a points fixing system.
These points are made of stainless steel that measure 50mm diameter.
This Glass Railing with Points Fixing System is suitable for a private or public use.
Specific Glass Railing System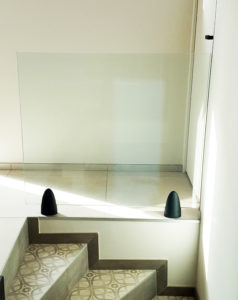 We can also offer you a specific glass railing system that adapts itself perfectly to your available space with any type of structure.
The specific glass railing system is only suiable for a private use.
We can offer you an appropriate fixing system according to your needs with a high or low profile, with clamps, points fixing, etc…
Advantages of our Glass Railings :
A complete turnkey solution with profile and glazing, certified by a technical advice
Thanks to its EVA laminated glass process, our glazing have an outstanding moisture resistance. Glass Railings that are built outside or in a humid environment do not present any risk of delamination over time, unlike PVB laminated glass.
Our technical advice is also available for our digital printing glasses
Adjustment of the glazing's perpendiculatiry while installing it (+/- 15mm) allowing a perfect alignment of your glass
Fixing every 200 mm or 400 mm with concrete screws
High rail stiffness for an optimal support
*Sabco is a SB INGENIERIE (SADEV) trademark