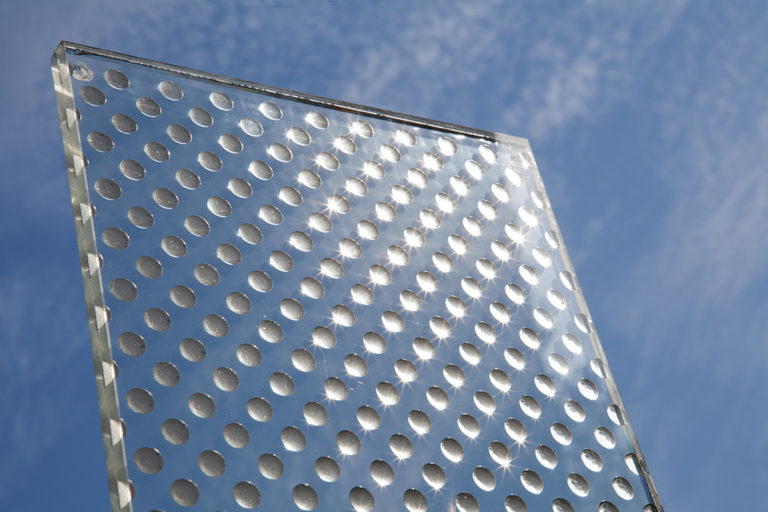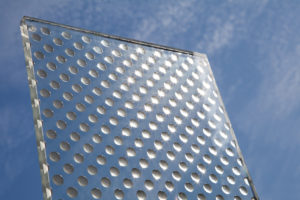 Discover an exclusive innovation among our decorative laminated glass range: METALICA® SeenGLASS.
METALICA® SeenGLASS is an innovative decorative and safety laminated glass with a metallic coating.
Born from a patented process, METALICA® SeenGLASS laminated glasses are created with clear or extra-clear glasses and have a coating of one or more metal layers.
Materials such as aluminium or metallic gold are dropped on the film between two glass plates (mirror, semi-reflective or satin).
In its simple version, the back side is black, but in the DUO version you can choose the color.
The choice of geometric patterns is either standard or free thanks to your vectorized files, depending on the technical specifications.
They can be combined, leaving you the choice of shape, size, colour and metal.
In addition to its aesthetic advantages, its XXL dimensions, up to 3600mm high and 1500mm wide, will also appeal to creative people.
Applications
This glazing will be ideal for your interior and exterior applications: partitions and doors, office or residential building facades, windows, bay windows, decorative elements, shops and showrooms….
Les cookies de YouTube sont désactivés, vous ne pouvez pas lire de vidéos.