Laminated glass is ideal to create a modern and spacious interior space. It makes it possible to design spaces that are bright, comfortable and safe at the same time.
Architects and decorators appreciate the integration of this material in their projects for aesthetic reasons, but also for its many advantages: thermal and acoustic comfort, maintenance, etc.
Laminated glass: what is it ?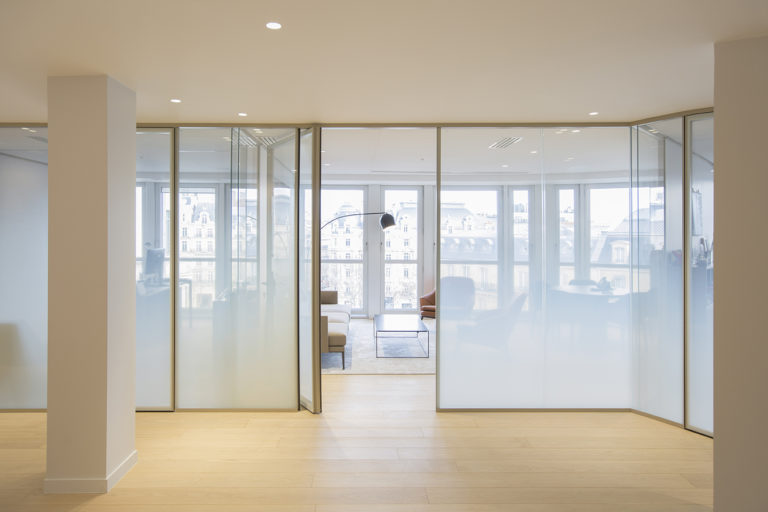 A laminated glass is made of glass sheets assembled with EVA interlayers. Above all, it is a safety glass that breaks in a star shape. The pieces are maintained by the films between the glass sheets.
In addition to its safety assets, laminated glass is also a decorative element. This glass makes a space more beautiful, whether in a home, a business or a shop.
Decorative laminated glass offers the possibility of inserting different films or decorative materials between the two glass sheets. It creates many possibilities in terms of creation and customization.
Laminated glazing with inserts: a wide range of customisation options
In order to customize your interior decoration, discover a wide range of materials to incorporate within the laminated glass: broken glass, opal film, color films, gradients, images and logos, LED lighting, LCD opacifying film, fabrics, decorative papers, graphic designs, etc.
Discover our different ranges of decorative glasses:
CLASSICA: transparent, opal, crash (broken glass)
COLORA: incorporation of color or image films
NATURA: incorporation of Japanese papers, fabrics and other natural materials
METALICA: incorporation of metalized films. Discover our new product within the Metalica glass range : the SeenGlass Metalica Glass !
GRAFICA: incorporation of graphic elements.
Decorative glassoffers that way infinite possibilities of creations thanks to its wide range of decorative elements. They allow you to enjoy an audacious and elegant design.
Laminated glass: for many applications
Laminated glazing is suitable for many interior and exterior applications, allowing different types of interior layout, both private and public:
Glass railing and handrail
Glass floor
Glass partition
Interior glass door and glass front door
Kitchen splashback
Glass furniture
Decorative glass shelf
Glass table plate
Indoor or outdoor signage
Glass frontage
Showcase
Discover all our achievements !