It is now proved that replacing an old window is an efficient way to improve energy efficiency ! 
The ADEME¹ CSTB² study³ assessed the energy impact on thirty renovations including insulation works of opaque and glass walls.
They carried out simulations on a large number of representative accommodations to assess the energy consumption before and after their renovations in order to calculate the amount of savings that were generated.
Consequences of insulating renovations of glass walls are clear: energy savings on 1m² of an efficient window compared to an old window with a single-glazing is similar to the energy savings that can be generated from 1m² of walls or loft insulation.
The ADEME/CSTB study answers technical debates about that matter and proves that replacing its windows is as efficient as other insulating works.
Replacing old windows is the most common insulating work that french people choose. Apart from generating heating savings, this renovation work also cuts down draughts, cold wall sensations, it improves visual and acoustic comfort while increasing the green value of the accommodation.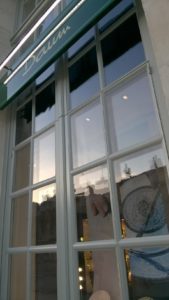 Righetti's solutions
Insulating glasses that suit your needs
Righetti offers a wide range of Insulating Glasses. Our insulating glass is made of two or three glasses, including one with a low-emission coating. A low-emission glass is filled with argon gas that provides you with a perfect isolation while limiting the loss of heat from inside to outside.
The combination of different glasses provides you with a solution that meet your needs by:
Improving thermal insulation
Reducing the heat input in summer
Improving acoustic insulation
Reinforce people's safety
Making your glasses' maintenance easier
Customize your glasses
We can offer you different types of double glazing:
With a low-emission coating
Decorative double glazing
Solar control
Safety insulating glass with 1 or 2 laminated glasses
Acoustic
Triple glazing
Our installation team is available for you
Our installation service is available for you to install your glass façade.
This service includes:
Feasibility study of your project, calculations, determination of thickness
Measurements
Installation of glasses with a robot
¹ ADME = French Agency for Environment and Energy Management
² CSTB = French Scientific and Technical Centre for Building
³ Study carried out between December 2017 and March 2018 on the DGEC request (French Directorate General for Energy and Climate) and the DHUP (Frenchoffice for urban planning, housing and landscape)