A glass railing to enhance your spaces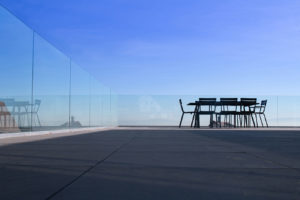 Both safe and aesthetic, a glass railing on profile provides protection from falling into the void, while sublimating space in which it is integrated.
Installing a glass railing on a floor profile, also known as a fixing rail, ensures optimum support for the glass panels and allows the glass railing to blend in completely with the location.
With transparent glass, a glass railing will leave a free and unobstructed view. The opal laminated glass will protect you from prying eyes.
Both elegant and refined, a glass railing on profile will easily sublimate your interior or exterior space: balcony, patio, mezzanine, pool barrier.
Righetti offers a complete, turnkey and performant range of glass railing on profile.