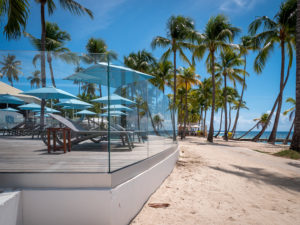 Whether on a patio, on a balcony or next to a staircase, installing a glass railing is essential, and even mandatory to keep its users safe. In addition to protecting people from falling, choosing a glass railing is ideal for its elegance and its aestheticism.
Its refined design makes it irresistible to architects, whether for your interior or exterior space.
A safety glass barrier allows therefore to gain more light, while minimizing the installation rendering. It sublimates any space by its simple presence.
A glass handrail combines design and solidity and offers a breathtaking result.
Discover our new project
Discover one of our latest glass railing projects! This installation, built in a hotel on the island of Guadeloupe, offers a magnificent view of the sand and turquoise water of the Atlantic Ocean.
These glass railings from the Garda 2® F range are made of 66.3 and 10.10.3 tempered laminated glasses and ONLEVEL by TRANSLEVEL® profiles.
Laminated glasses, which are assembled with EVA hydrophobic films, do not present any risk of delamination when exposed to moisture.
GARDA 2® Glass railings on TRANSLEVEL® by ONLEVEL profiles
Garda 2® F is part of our glass railing on profile range. Garda 2® F is a floor mounting system, also called French installation.
Laminated glasses are held by an aluminium profile continuously without a post, with or without a handrail.
GARDA 2® is a new glass railing on TRANSLEVEL® by ONLEVEL profile range. It is one of the most performant profile of the market.
Discover also GARDA 1®, our glass railings on SABCO EVO® by SADEV profile.