Why chose an interior glass door ?
To start with, glass is a noble material which has become an essential part of our daily lives. In fact, an interior glass door is therefore the ideal solution to make your home more beautiful and to enlighten your house.
Above all, the main advantage of this element is that it guarantees enough brightness in all partitioned rooms. Indeed, it allows light to diffuse itself in order to bring comfort and well-being to its users. More brightness and light also provide an impression of spacious space, while limiting the need for artificial light.
An interior glass door also allows to divide spaces without reducing brightness. Actually, installing multiple glass doors will remove the partitioning effect obtained by classic doors and provide depth to your spaces.
A transparent glass door will also be ideal to reduce noise pollution between a living room and a bedroom for example. A frosted or tinted glass door will also preserve the privacy of its users.
Lastly, in addition to its functional assets, it can also become a modern and contemporary decorative element that is possible to customize endlessly.
Decorative laminated glass can make your glass door more beautiful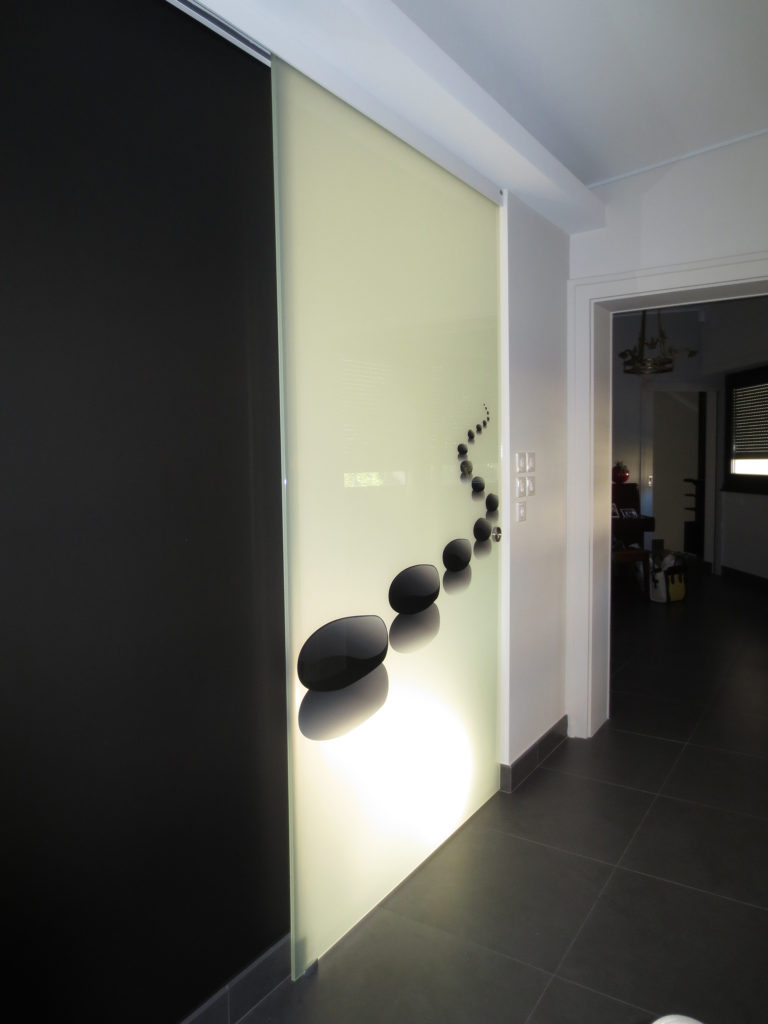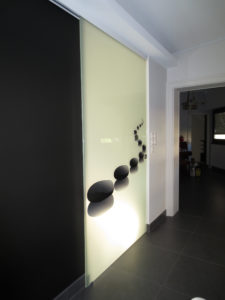 In addition to our transparent safety, printed and sandblasted glass range, Righetti can provide you with customized interior glass door with various decorative material.
In fact, our decorative laminated glass collection can allow you to create unique achievements by incorporating various materials.
Discover our decorative glass ranges:
CLASSICA: transparent, opal, crash (broken glass), printed glass, reflecting glass…
COLORA: incorporation of color and image films.
NATURA: incorporation of japanese papers, fabrics and other natural materials.
METALICA : incorporation of metallized films, meshes, dichroic films.
INOVA : incorporation of LEDs or switchable films.
GRAFICA : incorporation of graphic elements.
Our achievements
Here are a few examples of our achievements: