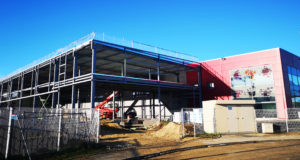 Nine years after moving in its building in Fléville-devant-Nancy, Righetti is expanding through the construction of a new extension.
Indeed, aspart of the development of new activities, Miroiterie Righetti has been implementing a 1500 m² extension project since the beginning of 2019.  This expansion will allow to meet various needs:
First of all, the expansion of the logistics section will make it possible to make the reception and removal of goods easier. We will then be able to welcome professionals better when they pick up their orders.
New investments will then make it possible to increase and optimize our production. We will also be able to manufacture tempered glass. This will enable us to meet the growing demand for tempered laminated glass.
Lastly, to achieve this, Righetti will then acquire new high-performance equipment:
An automatic storage and supply machine
An additional cutting table
A glass machining machine
A tempering furnace
Works Progress
Step 9
Installation of additional overhead cranes to make the handling of the glazing easier.
Step 8
Installation of a bilateral shaping machine allowing the shaping of glazing on two sides at the same time.
This equipment offers the possibility of carrying out different finishes on your glazing in an automated way.
The reduction in processing time and the elimination of numerous manipulations, thanks to an integrated control panel, allows us to increase our productivity.
It also offers more precision and reliability for optimum performance.
Step 7
Installation of a vertical numerical controlled machining unit.
This machine is composed of two different equipment allowing the shaping and drilling of glass plates.
These high-performance tools offer the possibility of shaping glass in special shapes, but also of making notches, socket holes on glass doors or kitchen splashbacks.
This new high-performance equipment increases productivity and brings more precision in the shaping and drilling of complex shaped glazing.
Step 6
Construction of the northern extension and its foundations.
Step 5
Construction of the southern extension.
Step 4
In order to increase and optimize our production, but also to meet new demands, we have made new investments by acquiring high-performance equipments.
Among these equipments, we have recently implemeted the 1st automatic storage and supply machine in France with our Italian partner Macotec.
This new time saving acquisition allows us to offer better services, optimization and performance to our customers.
And this is only the beginning! This machine acquisition is only the first step of our expansion. Indeed, new equipments will soon arrive in our offices, including a tempering furnace!
Step 3
Installation of a reinforced concrete slab to accommodate the future automatic storage glass warehouse of 500 tons
Step 2
Concrete slab cut for our new storage and automatic supply machines
Step 1
Start of the first works and Plateform preparation.