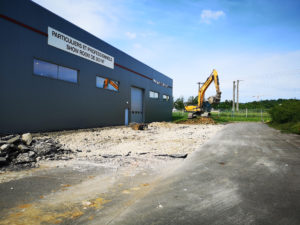 Nine years after moving in its building in Fléville-devant-Nancy, Righetti is expanding through the construction of a new extension.
Indeed, aspart of the development of new activities, Miroiterie Righetti has been implementing a 1500 m² extension project since the beginning of 2019.  This expansion will allow to meet various needs:
First of all, the expansion of the logistics section will make it possible to make the reception and removal of goods easier. We will then be able to welcome professionals better when they pick up their orders.
New investments will then make it possible to increase and optimize our production. We will also be able to manufacture tempered glass. This will enable us to meet the growing demand for tempered laminated glass.
Lastly, to achieve this, Righetti will then acquire new high-performance equipment:
An automatic storage and supply machine
An additional cutting table
A glass machining machine
A tempering furnace
Works Progress
Step 6
Construction of the northern extension and its foundations.
Step 5
Construction of the southern extension.
Step 4
In order to increase and optimize our production, but also to meet new demands, we have made new investments by acquiring high-performance equipments.
Among these equipments, we have recently implemeted the 1st automatic storage and supply machine in France with our Italian partner Macotec.
This new time saving acquisition allows us to offer better services, optimization and performance to our customers.
And this is only the beginning! This machine acquisition is only the first step of our expansion. Indeed, new equipments will soon arrive in our offices, including a tempering furnace!
Step 3
Installation of a reinforced concrete slab to accommodate the future automatic storage glass warehouse of 500 tons
Step 2
Concrete slab cut for our new storage and automatic supply machines
Step 1
Start of the first works and Plateform preparation.